Has there ever been a project that you just couldn't get right?
I started working on a memory game back around Thanksgiving, and really wanted to give it to Reli as a Christmas gift. I originally pinned the picture below, but didn't want to buy a bunch of stamps that I would only use once. So I figured I would just paint on little pictures with acrylics.
Did I honestly think I had that much time & energy?!
Then Ashley from over at
Lil Blue Boo
posted a memory game tutorial that seemed perfect for me.
Just print out your pictures and transfer it onto the wood with some orange cleaner. It looks so simple right?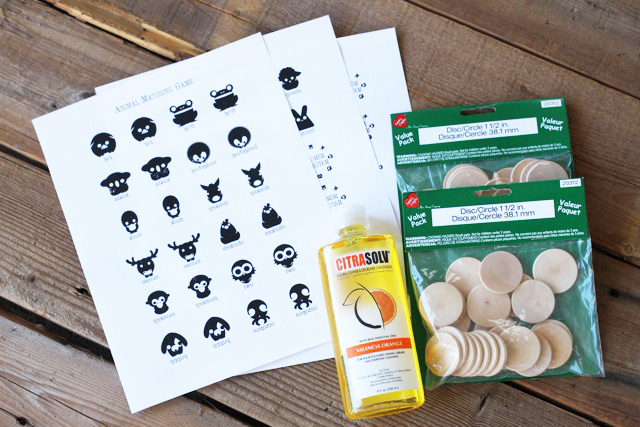 Well, after searching high and low for the citra-solv, and trying 5 different printers searching for the correct ink,
I could still only manage a super faded version of my images.
I thought I was going to have to go over every animal with a sharpie until I stumbled across this picture.
BINGO!
We already have a regular picture memory game, and I've been wanting to find a fun way to teach Reli the lower case letters. Wouldn't this would be great for that? We can keep them right side up for now and match upper and lower case, then use them to spell out small words, and eventually make it a bit more difficult by flipping them upside down like a regular memory game.
First, it was no simple task for me to find the right alphabet stickers!
I'm not in love with the ones I ended up using, but finding upper and lower case together, that aren't too wide for the circles, in a font that is toddler friendly, and aren't black or glitter covered was surprisingly difficult. At least this one doesn't shed glitter, and Reli can recognize all but 2 or 3 of the capital letters right away.
Then my next problem was painting the disks.
Why did they need to be painted? Your guess is as good as mine!
I tried to spray paint the wood and realized that it needed to be primed. But of course we were fresh out of primer. So I got out the acrylics and a paint brush and got to work. That didn't look very pretty, so I ended up spray painting over the acrylic all over again. What the heck? Could I make it more difficult on myself?
Why didn't I just go out and buy some darn primer?
Eventually I got the paint to an acceptable state and slapped the stickers on as quick as humanly possible.
By now I'm so fed up with this project that I couldn't be bothered to find just the right paper to mod podge onto the backs, and maybe I never will. I just desperately needed this to be off my to do list!
There. Posted. DONE!
I don't even wanna talk about it ; )